Seaweed helps Qingdao's marine economy stay afloat
China's appetite for the "grass of the sea" dates as far back as the sixth century, and as a rich source of calcium, iodine, iron and vitamins A, C, B and E, seaweeds have cemented their place as an invaluable ingredient in kitchens and food factories.
Estimates by market research firm Global Market Insights put the per capita consumption of seaweed in China at up to 2.5 kilograms annually – one of the highest in the world.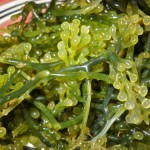 The acquired taste for the aquatic plant has placed China at the heart of a multi-billion-dollar industry, whose growth was boosted thanks to a burgeoning global demand as more health-conscious people introduce algae to their diets.