Is Algae the Next Big Performance Story in Footwear?
Can the key to a more sustainable footwear industry be found in lakes and ponds? If Bloom has any say in it, maybe.
The maker of the world's first plant-based performance foam for footwear found its key ingredient in algae. And the Meridian, Mississippi-based Bloom has created an innovative alternative to conventional foams for insoles, midsoles and outsoles by harvesting it.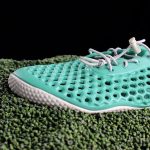 Bloom launched three years ago with the goal of delivering the most performance driven materials in the most sustainable way possible. The company's performance foam contains between 15 percent and 60 percent algae biomass, which acts as a natural polymer when combined with foaming ingredients.
View the complete list of products from Algae
Click here