The pond scum that could fuel jet planes
Scientists from University of Tokyo are researching to use euglena, a type of microalgae found in fresh and salty water for food, fuel and pharmaceuticals.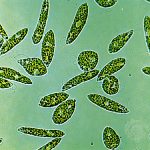 Euglena, during photosynthesis, produce certain oils or lipids that can be used as nutritional supplements and also as a potent biofuel. The oil from euglena is chemically similar to kerosene but is lighter than other algae-derived oil and thus more suited for production of jet fuels.