Seaweed Start-up Dives for Success as Specialty Ingredient
Seaweed start-up Dansk Tang, which uses divers to hand harvest its macroalgae from the North Sea, is making a splash in Denmark's specialty food retail space.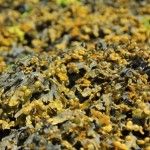 Dansk Tang's range of products includes seaweed pesto and mustard, grapeseed oil with seaweed, sea salt with seaweed and whole, dried seaweed.
It has recently launched a range of whole, dried seaweed including toothed wrack (Fucus serratus), bladderwrack (Fucus vesiculosus) and seabelt (Saccharina latissimi) which sell for DKK40 (€5.38).
View the complete list of products from Algae
Click here