New Bioreactor to Speed Production of Microalgae for Feed, Fuel Uses
Researchers from Washington State University and National University of Colombia have developed a faster way to generate microalgae on a biofilm with potential applications for feed.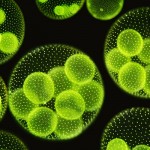 The aim of the project is to develop mixotrophic algal biofilm reactor incorporating glycerol and urea as sources for carbon and nitrogen, establish biomass and lipid production, estimate fatty acid profiles and quantify dissolved oxygen and pH depth profiles under different conditions.
Developing methods for faster growth of microalgae is also the aim of this project. Here, the new bioreactor can grow algae in four days and since algae is grown on a membrane, it is easier to harvest the algae compared to other systems.