Seaweed and Microalgae Driving New Product Development
Seaweed is finding new product applications in Western markets due to its wide ranging health benefits. Food Ingredients First, a Netherlands based company is examining the surge of seaweed and microalgae as an ingredient in food flavouring.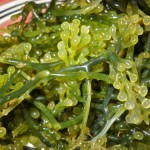 Innova market insights has reported a 10% increase in global supplements launches containing seaweed ingredients.
With many companies like Food Ingredients First looking for an innovative food products from seaweed, it is estimated that the seaweed for foods market will reach a high value in the near future.