Chinese Astaxanthin Wins EU Novel Foods Approval
Chinese company BGG's AstaZine line of natural astaxanthin ingredients has received Novel Food approval from the Food Safety Authority of Ireland and has extended its range of products into Europe.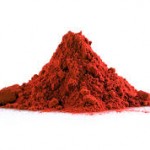 Following the approval, AstaZine can be used in food supplements at the current levels of usage. There is no fixed dose level in EU but a dosage between 2-4mg would usually be considered a normal level of usage based on risk analysis using EFSA statements.
View the complete list of products from Algae
Click here