Production of High Purity Phycocyanin by Spirulina platensis using LED Based Two-stage Cultivation
Scientists from Korea performed an experiment to produce high quality phycocyanin pigment from Spirulina using LED based two-stage cultivation.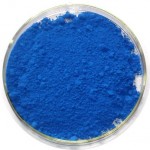 Initially Spirulina was cultured under a combination of red and blue LEDs to obtain fast growth rate. Later blue LEDs were used to increase the concentration and purity of phycocyanin in Spirulina. Results showed that the process yielded 1.28 mg mL−1 phycocyanin with the purity of 2.7.
View the complete list of products from Algae
Click here