Wavelength-selective Plasmonics for Enhanced Cultivation of Microalgae
Scientists from Canada have conducted an experiment to increase the growth rate of microalgae in photobioreactors using plasmonic substrate. Modular photobioreactors were constructed with different reflective substrates including arrays of plasmonic nanodisks, broadband reflectors, and untreated glass.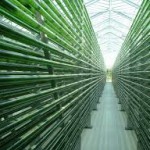 The results showed that the growth rate of microalgae increased greatly when grown in photobioreactors equipped with the plasmonic substrate. Thus wavelength-specific reflection from plasmonic reflectors increases the flux of useful light to cultures.