Scientists find New Beneficial Algal Species
Two new bloom-forming algal species, Ulva paschima Bast, and Cladophora goensis Bast have been discovered off the west coast of India. The two species are endemic and have the ability to capture carbon dioxide from the atmosphere and reduce global warming.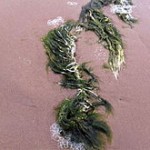 The main criteria used to discover these species is a mix of morphological as well as molecular characteristics.
As these species are endemic and bloom-forming, their cultivation do not cause any environmental harm and they do not need any fertilizers for their growth. These species can grow sporadically at shorelines and can sequester carbon dioxide.