Nutrusta Launches New Health Supplement
Scientists recently discovered that when supplementary astaxanthin was provided to patients suffering from an accident, head impact, or surgery, there was significantly reduced swelling, cerebral oedema, and neurological dysfunction.
Researchers at Nutrusta have tried to include pure and natural astaxanthin extracted from micro-algae in their new omega-3 Formula together with Vitamin D3.
Nutrusta's process uses supercritical CO2 extraction. The CO2 prevents oxygen from being exposed to the oil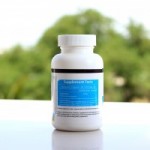 , and inhibits the oil from degradation, which would lead to rancidity. Rancid fish oil only contributes to the inflammation that is at the root cause of every major disease known to humans.
This omega-3 formula contains other active ingredients not found in other supplements. High ratio of DHA to EPA, along with astaxanthin and Vitamin D3 makes this product unique.
Nutrusta is a natural supplement company that uses pure ingredients in the most bioavailable form to achieve maximum absorption by the body.
– See more
View the complete list of products from Algae
Click here