Keen on Making Money from Your Algae Fuel Business- Read Oilgae's Attractive Algae Products Report.
December 21st, 2013
|
No Comments
|
Posted in Algae, Algae animal feed, algae chemicals, Algae cosmetics, Algae DHA, Algae fatty acids, algae fertilizer, algae flour, algae for cosmetics, Algae for food, algae meal to fish food, Algae Non fuel products, Algae Pharmaceuticals, Algae Pigments, algae plastics, Algae Polymers, Algae Products and Applications, Algae PUFA, algae vitamins, Algae-Energy-Products
Products from algae present one of the most exciting business opportunities, both in terms of market sizes and diversity of products and applications. Every aspiring entrepreneur keen on attractive emerging markets should explore algae-based products.
Algae are possibly one of the most useful organisms. In addition to the fact that algae are responsible for consuming most of the CO2 and releasing the most amount of oxygen that keeps us alive, algae are also being used in diverse industries and applications. One of the most important products that can be made from algae is biofuels and there are a number of companies working towards it.
The Super Formula to Fight Aging – Its Name is Astaxanthin
-Know more
However companies involved in the algae-to-fuels domain started to realize that it could take much longer than originally expected to derive fuels from algae. Hence, as a starting point, many of these companies are exploring venturing into high value, non fuel products from algae. This allows them to generate profits fairly early into their venture while at the same time ensuring that they are able to continue with their efforts in sustainable fuel production.
Recognizing this trend and need for a comprehensive resource on algae products, Oilgae has come up with a report – "Comprehensive Report on Attractive Product Opportunities" The report provides an overview of the wide range of non-fuel applications of algae – both current and future prospects. It will provide entrepreneurs with an idea of how to derive more benefits from their algal energy ventures.
The image below illustrates the various sections covered in the report: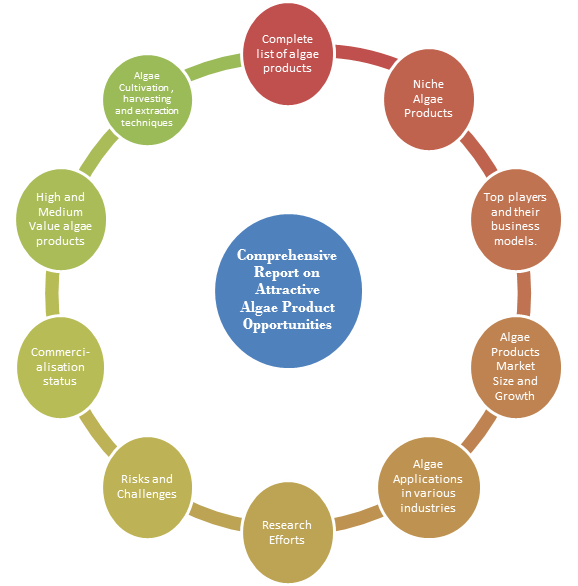 More details about the report can be obtained from here – http://www.oilgae.com/ref/report/non-fuel-algae-products.html
View the complete list of products from Algae
Click here