Algae Carbon Capture Consulting Assistance from Oilgae
Oilgae's consulting division can assist your company in a strategic and market understanding of the opportunity presented by the fast growing algae based carbon capture business worldwide.
Thousands of CO2 emitting power plants and industries face a costly problem in reducing their CO2 emissions. Typical coal-fired power plants emit flue gas from their stacks containing up to 13% CO2. It is estimated that power plants produce over 30% of all greenhouse gases worldwide.
In today's trend, there is an urgent need for industries and power plants to reduce their CO2 emissions in order to control global warming.
What if these companies and power plants could use algae to absorb the CO2 and generate biofuels in return? This is precisely what companies and power plants around the world are beginning to explore.
Why Algae for Carbon Capture?
Algae, especially microalgae consume CO2 in large amounts. Each ton of algae produced consumes nearly 1.8 ton of CO2 and releases large amounts of oxygen necessary for life. Use of algae for carbon capture benefits in two ways – an effective solution by which power plants can reduce their net CO2 emissions & the algae grown can be used as an effective feedstock for biofuels.
With increase in demand for a suitable cost-effective solution for carbon capture, a number of industries and power plants are keen on exploring algae based business opportunities.
Oilgae's Consulting Division provides specialty custom research and strategic consulting for these industries.
Highlights of Algae based Carbon Capture
– Owing to the fact that high purity CO2 gas is not required for algae cultivation, flue gas containing CO2 and water can be fed directly to the photobioreactor.
– Power plants that are powered by natural gas or syngas have virtually no SO2 in the flue gas. The other polluting products such as NOx can be effectively used as nutrients for micro algae.
– Microalgae culturing yields high value commercial products that could offset the capital and the operation costs of the process, at least to some extent. In addition to biofuels, algae are also the starting point for high-protein animal feeds, agricultural fertilizers, biopolymers / bioplastics, glycerine and more.
– The entire process is a renewable cycle.
Algae thus provide a number of businesses and companies the ability to control their CO2 emissions while at the same time obtain an alternative revenue source through the resultant biofuel feedstock.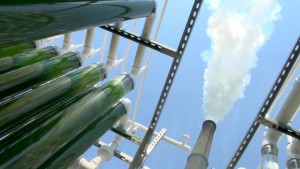 Who will Benefit Algae-based Carbon Capture Opportunities?
Business opportunities exist both for companies that are CO2 emitters as well as for external businesses such as consulting and engineering companies that are willing to work with power plants to make the algae-based CO2 sequestration and biofuels production a reality.
In addition to power plants, algae can be grown on flue gases emitted from many other industrial sources as well. Examples of other industries that emit significant amounts of CO2 are:
– Cements
– Iron & Steel
– Petrochemicals
– Sugar
– Tyres
– Carbon Black
– Mining
– Aluminium
– Paper
– Inorganic Chemicals
– Fertilizers
– Breweries
Scope of Our Consulting Services
Oilgae's Consulting focusses on providing strategic and market focused suggestions and recommendations to industries and power plants. With our extensive network and contacts with scientists and research community, Oilgae can also further assist them in collaborating with scientists and/or technical solutions providers.
Our core offering however is to enable our clients understand the market, business and strategic potential for algae-based businesses.
Why Oilgae?
Oilgae is one of the very few firms in the world that has had a dedicated focus on algae-based carbon capture and solutions for a decade. Starting with the research on the use of algae for biofuels, our scope of work widened about 6 years back into providing market and strategic assistance for power plants and industries looking for a cost-effective solution to reduce net carbon dioxide emission.
The following are the reasons why you should take Oilgae's consulting assistance for your foray/investment into algae-based carbon capture:
– More than ten years with a focus on market research for algae-based carbon capture and solutions
– Have consulted for the likes of La Farge & Reliance
– Our research has been used by over 1000 prominent companies and organizations worldwide
– Highly networked with over 1000 industry experts worldwide
– Run the world's most popular online resource for algae business – oilgae.com
– Publish the most acclaimed report on the topic – Comprehensive Guide for Algae based Carbon Capture
Interested in taking up EAI's consulting assistance for your entry into Bio-based business sectors?
Reach us at – consult@eai.in with Bio-biz in the subject line or call Narsi 7358263274
Partial List of Clients
About Us
Our specialized consulting division provides assistance in market research & business intelligence, market potential analysis, strategy consulting, technology vendor/supplier finder, technology & business due diligence, M&A assistance and more for the complete clean energy, environment and sustainability value chain.
We have assisted a range of stakeholders, small businesses/SMEs, startups, large corporations, state and central government, venture capital companies, private equity firms, investment banks, NGOs and more. Send a note to consult@eai.in if you wish to take our consulting help.
Our specialized consulting has benefitted clients all across India and select countries outside:
We has provided consulting & industry research assistance across India, having clients who have benefitted from our consulting or research from the following cities:
Ahmedabad | Amravati | Amritsar | Asansol | Aurangabad | Bangalore (Bengaluru) | Belgaum | Bhavnagar | Bhopal | Bhubaneswar | Bikaner | Chandigarh | Chennai (Madras) | Coimbatore | Cuttack | Dehradun | Delhi | Dhanbad | Durgapur | Faridabad | Firozabad | Gandhinagar | Gangtok | Ghaziabad | Guntur | Gurgaon | Guwahati | Gwalior | Hyderabad | Indore | Jabalpur | Jaipur | Jalandhar | Jalgaon | Jammu | Jamnagar | Jamshedpur | Jodhpur | Kalyan | Kanpur | Kochi (Cochin) | Kolhapur | Kolkata (Calcutta) | Kota | Kozhikode | Lucknow | Ludhiana | Madurai | Mangalore | Meerut | Mumbai (Bombay) | Mysore (Mysuru)| Nagpur | Nashik | Navi Mumbai | Nellore | Noida | Patna | Pimpri & Chinchwad | Pune | Raipur | Rajkot | Ranchi | Salem | Sangli | Solapur | Surat | Thane | Thiruvananthapuram (Trivandrum) | Tiruchirapally (Trichy) | Udaipur | Vadodara (Baroda) | Vijayawada | Vishakapatnam | Warangal
Countries worldwide where we have assisted clients through research reports or consulting
Australia | Austria | Bahrain | Belgium | Brazil | Canada | Chile | China | Croatia | Czech Republic | Denmark | Estonia | Finland | France | Germany | Hong Kong | Hungary | Greece | Iceland | India | Indonesia | Ireland | Israel | Italy | Japan | Kuwait | Latvia | Lithuania | Luxembourg | Malaysia | Malta | Mexico | Netherlands | New Zealand | Norway | Portugal | Republic of Korea (South Korea) | Russia | Saudi Arabia | Singapore | Slovakia | Slovenia | South Africa | Spain | Sweden | Switzerland | Thailand | Tunisia | Turkey | United Kingdom (UK) | United States of America (USA)
Specific Domains We Operate in
Solar Energy
Solar PV– Rooftop Solar | Residential Rooftop Solar | Commercial & Industrial Rooftop Solar | Ground Mounted Solar Farms | Solar Farm Operations & Maintenance | Solar Farm Monitoring & Control | Solar Power Integration with Grid | Offgrid Solar | Solar Water Pumps | Solar Street Lights | Off-grid Solar Homes ||| Solar PV Components – Solar Trackers | Single Axis Solar Trackers | Dual Axis Solar Trackers | Solar Inverters | Solar Power Plant Central Inverter | Solar Power Plant String Inverter | Solar Power Plant Micro-Inverter | Solar PV Mounting Structures | Solar Power Plant Monitoring & Control Systems | Solar PV Wafers | Solar PV Cells | Monocrystalline Solar Cells | Polycrystalline Solar Cells | Thin Film Solar Cells | Bifacial Solar Cells | Solar Modules/Panels | Solar Panel Backsheets | Solar Panel Aluminium Frames | Solar Panel Encapsulants | Building Integrated Solar PV | Solar PV Storage | Concentrating Solar PV |
Solar Thermal – Low-Temperature Solar Thermal | Solar Water Heating | Solar Cooking | Solar Drying | Medium & High Temperature Solar Thermal | Medium Temperature Commercial & Industrial Heating Using Solar Thermal | High Temperature Industrial Heating Using Concentrated Solar Thermal | Concentrating Solar Power | Storage for Concentrating Solar Power | Fresnel Lens based Concentrating Solar Power | Power Tower based Concentrating Solar Power | Parabolic Trough based Concentrating Solar Power | Dish based Concentrating Solar Power | Hybrid Solar Energy | Solar Wind Hybrid | Solar Biomass Hybrid | Solar PV / Thermal Hybrid
Bio-Energy
Bio-energy for Heating – Combustion-based Biomass Heating | Gasification-based Biomass Heating | Anaerobic Digestion based Biomass Heating
Bio-energy for Power – Combustion-based Biomass Power | Gasification-based Biomass Power | Anaerobic Digestion based Biomass Power | Biomass Combined Heating & Power | CHP Boilers for Biomass | Operations & Maintenance for Biomass-based Energy Plants | Biomass Storage | Biomass Pre-processing | Biomass Ash Management,
Bio-energy for Transportation – Ethanol | First Generation Ethanol | Second Generation Cellulosic Ethanol | Biodiesel | Biodiesel through Transesterification | Hydrogenated Vegetable Oil – HVO | Bio-butanol | Bio-methanol | Bio-CNG | Aviation Biofuels
Other Bio-energy – Biogas | Syngas
Bio-Energy Crops – First Generation Bio-energy Feedstock | Agricultural Waste Feedstock | Dedicated Energy Crops | Perennial Biomass Bio-energy Feedstock | Prominent Biomass Feedstock for Heating & Power | Sawdust for Heating & Power Generation | Rice Husk for Heating & Power Generation | Paddy Straw for Heating & Power Generation | Bagasse for Heating & Power Generation | Julieflora for Heating & Power Generation | Bamboo for Heating & Power Generation
Energy Storage
Electrical Storage – Capacitors | Superconducting Magnetic Energy Storage | Chemical Storage | Hydrogen Storage | Fuel Cells
Electrochemical Storage – Battery | Lead Acid Battery | Lithium Ion Battery | Emerging Battery Types | Sodium Sulfur Battery | Solid State Batteries | Battery Management Systems
Mechanical Storage – Pumped Hydro Energy Storage | Flywheel Energy Storage | Compressed Air Energy Storage
Sustainable Transportation
Sustainable Transport – Two Wheelers | Bicycles | Electric Bicycles | Electric Motorbikes | Electric Scooters | Electric Three Wheelers | Sustainable Car Transport | Electric & Hybrid Electric Cars | Battery-based Electric Cars | Hybrid Electric Cars | Plug-in Hybrid Electric Cars | Fuel Cell Electric Cars | Electric Light Commercial Vehicles | Electric Mini Trucks & Vans | Electric Buses | Fuel Cell Buses | Electric Heavy Commercial Vehicles | Electric Trucks | Sustainable Rail Transport | Sustainable Aviation | Fuel Cell Vehicles | Sustainable Transport Infrastructure | EV Charging Infrastructure | DC Charging for Electric Vehicles | AC Charging for Electric Vehicles | Battery Swap Stations for Electric Vehicles | Hydrogen Fueling Infrastructure | Sustainable Transport Fuels and Fuel Standards
Sustainable Transport Fuels – Biodiesel | Ethanol | Bio-CNG | Other Biomass-based Liquid Fuels | Hydrogenated Vegetable Oil – HVO