New microalgae can convert non-food crops
Researchers at Los Alamos National Laboratory and partner institutions in the US have found that a freshwater strain of microalgae Auxenochlorella protothecoides can degrade and utilise non-food plants like switchgrass. This increases the potential of this type of algae to be used for biofuel.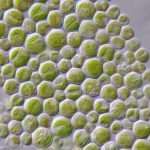 This work paves the way for future designer engineering of plant carbon utilisation to further improve productivity of algal production strains.