Microalgae may be the next protein on your plate
The sustainable alternative to red meat may be tiny, green and slimy. As one of the most nutritious foods on the planet, microalgae could create opportunity for humans on several levels.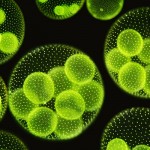 Algae are organisms that are aquatic and photosynthetic but lack stems, root and leaves. The two broad categories of algae are macroalgae and microalgae.
According to Andrew A. Dahl, president and CEO of Zivo Bioscience, Michigan, microalgae could change the way protein production is addressed.