New Tech Could Turn Algae Into the Climate's Slimy Savior
The new hope for algae is that they could rebalance the global carbon equation as a food, not a fuel. Despite appearances, algae are an excellent source of protein. If meat-eaters started to eat more algae, the industry's theory goes, that shift could slash carbon emissions by reducing demand for beef and pork.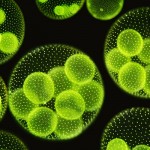 Algae could also replace fertilizer-intensive crops such as corn and soy as fillers in processed foods, including fish, pig, and cow feed. With enough algae in human and animal diets, society could avoid planting new fields even as the population increases, and perhaps even allow existing farmland to return to forests, which absorb more greenhouse gases per square kilometer.