3D printing from algae bioplastic eliminates waste
Studio Eric Klarenbeek has found a method for turning industrial organic waste products such as potato starch and cocoa husks into biodegradable furniture and home accessories. The studio grows mycelium fungi for use as a coloring and binding agent that holds the bioplastics together once they are printed.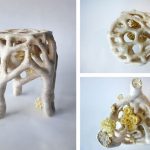 Longer term, the company's goal is to create a network of 3D bakeries. With the maker movement continuing to gain momentum, 3D bakeries will provide makers with dedicated spaces for printing as well as allow for bespoke, on-demand production for a more sustainable business model.
Additionally, by growing and printing with algae, the studio is able to produce pieces that are even better than carbon neutral.
View the complete list of products from Algae
Click here