Algae-filled Living Chandelier Cleans the Air
London-based designer and engineer has designed a  living chandelier. Called the Exhale Chandelier, the design consists of custom-made glass 'leaves' that are populated with green algae, which absorb carbon dioxide from the air, while simultaneously providing extra oxygen for you to breathe.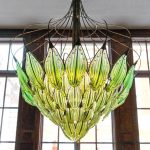 It's kind of similar to an air-purifying houseplant, except that it's integrated into a gorgeously made light piece.