Microalgae Separation Takes Shape
Researchers from UCLA and the University of Tokyo have demonstrated a new capability to sort microalgae cells by their shape, creating a baseline of uniform cells for a large range of research, industrial and clinical applications. While traditional separation methods are based on porous filters or sedimentation in which cells settle due to gravity, this is the first time shape-based separation has been made possible.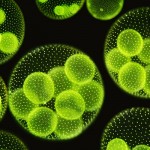 The researchers developed a continuous flow "inertial microfluidic" technique to filter E. gracilis by a key shape parameter-cell aspect ratio.  The researchers found that due to the momentum of the fluid flowing around the algae, cells migrated differentially when flowed through a precisely-shaped channel and the distance to the channel centerline decreased with increasing cell aspect ratio, the ratio of the cell's length to width.