Green Algae Found in UAE Could Produce Alternative to Palm Oil
Researchers have discovered that a green algae found in the UAE could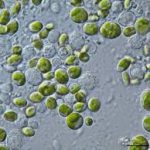 be used to produce an alternative to palm oil, which is environmentally destructive in its cultivation.
Chloroidium algae is one of the most prevalent in the region and researchers from New York University Abu Dhabi studied the strain which can be found in coastal beaches, mangroves and desert oases. These microalgae have a diverse set of genes and proteins that help it thrive in freshwater and saltwater and enable it to consume over 40 different varieties of carbon sources to produce energy.
The microalgae also accumulate oily molecules with a similar composition to palm oil leading researchers to believe it could be used to make an oil that will provide an alternative to the environmentally destructive palm oil trade.