EU Project Aims to Improve Extraction and Cultivation of Microalgae
A new €5m European project aims to make it cheaper and easier to enrich food, nutraceuticals and cosmetics with microalgae. Improving extraction techniques and making cultivation of algae microorganisms cheaper are the main aims of the new research program, backed by European Commission, as part of its Horizon 2020 program.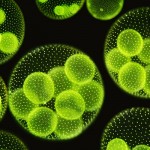 The VALUEMAG (Valuable Products from Algae Using New Cultivation and Extraction Techniques) project kicked off on April 26th, with its initial meeting in Greece.
View the complete list of products from Algae
Click here