Astaxanthin may Protect Skin Health from within
Research studies conducted by AstaReal have shown that dietary supplementation with astaxanthin may protect skin from the harmful effects of UV radiation.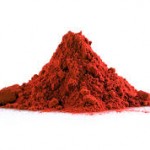 Data from clinical, in vitro and in vivo studies showed that astaxanthin helped protect against wrinkles and loss of skin moisture, as well as improving skin elasticity. It also inhibited the production of inflammatory compounds from skin cells, upon exposure to UVB radiation.
View the complete list of products from Algae
Click here