FDA Green Lights Spirulina Extract as Egg Shell Color Additive
FDA has given approval for the use of spirulina extract as a colour additive for hard boiled shell eggs. The announcement follows a petition filed by McCormick & Company, Inc.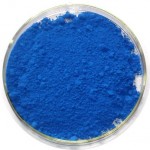 The company intends to sell the extract as a blue powder in packets to its consumers. The powder is produced by filtered aqueous extraction of the blue green algae Arthrospira platensis (Spirulina platensis).
View the complete list of products from Algae
Click here