Belgians Experiment with Spirulina in Greenhouses
PCG (Provincial Center for Vegetable East Vlaanderen) has started the cultivation of spirulina couple of months back. Last year, the center performed some exploratory tests to select suitable harvesting system.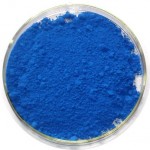 The pilot setup is now operational and the research is being conducted within the framework of Interreg Vlaanderen-Nederland project 'The Blue Chain', aimed at optimizing Spirulina's cultivation in a greenhouse environment.
The main focus will be on maximizing the Phycocyanin content in spirulina.
View the complete list of products from Algae
Click here