Beta Glucan from Algae – A Simpler, Bioavailable and Better Priced Product
CSO of Algal Scientific Corporation has said that dietary supplement sector is showing an increased interest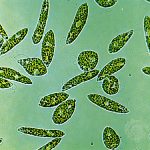 towards algae derived beta glucan. Both the dried algae and purified beta glucan are sold under the brand name PureAlgal, an Algal Scientific Corporation brand.
Algae derived beta glucan are simpler in structure when compared to yeast derived product. It is also more bioavailable and produced at a lower cost compared to the one from yeast.
Algal Scientific grows a non-GMO microalgae called Euglena gracilis. The algae are cultivated through fermentation in stainless steel tanks, harvested and pasteurized to obtain the beta glucan.
View the complete list of products from Algae
Click here