New Products Made With Seaweed Aim to Improve Nutrition
Researchers at the University of Cadiz UCA have collaborated with Technological Aquaculture Centre (CTAQUA) for a project named EALGA which aims to optimize the harvesting and cultivation of seaweed in the Bay of Cadiz.
The project which involves more than 75 experts from various fields, is based on studying the fundamental properties which determine the quality of seaweed for use in industrial food production.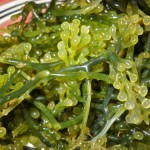 As part of the project, the researchers have developed products which are made with the different types of seaweed collected from the marshes in the Bay of Cadiz. To make the products attractive to consumers and easily affordable, they have added the seaweed as a main ingredient.
All these products have been patented and according to these experts, the seaweed based products are viable and have a good market.
View the complete list of products from Algae
Click here