BFAR Project Eyes to Boost Seaweed Farm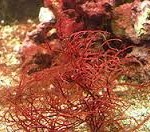 Bureau of Fisheries and Aquatic Resources has established a seaweed farm at Cagayan Valley in Philippines, which is expected to increase the fisher folk's income. The continuous increase of seaweeds production particularly Gracilaria has prompted the fisheries bureau to establish a seaweed warehouse in this area.
Consumer acceptance for these products is high especially among schools and offices because of its nutritional value. Meanwhile, Gracilaria seaweeds production can reach upto 60 metric tons per month during peak seasons from April to June while less during the months of July to March.