Novel Internal Mixers to improve the Performance of PBRs
Scientists from China have developed a novel mixer to improve the performance of flat-plate photobioreactors. The effects of the mixer were theoretically evaluated using computational flow dynamics.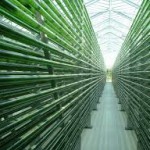 The results showed maximum biomass concentration in the PBRs, thus proving that they highly applicable for high-efficiency cultivation of microalgae.