Algatechnologies Invests $17 Million on Astaxanthin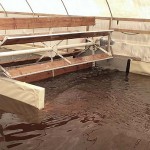 Algatechnologies, an Israel based company, specializes in the commercial cultivation of microalgae for food, medicines and cosmetics.
The company has recently announced its successful completion of stability studies on AstaPure-natural astaxanthin product. Astaxanthin, a dark red pigment present in algae, is a potential antioxidant.
Having achieved successful market with their high quality product, Algatechnologies has planned to invest $17 million in order to double the production of astaxanthin. According to the company, the investment will take place in 3 stages between 2014 and 2015.
Algatechnologies is the world's leading exporter of astaxantin – antioxidant, exporting their AstaPure line of products to more than 30 countries.
Want to Know More about Astaxanthin? Visit Astaxanthin.company
View the complete list of products from Algae
Click here