Blogs under tag Prof Will Zimmerman
A bubble-maker that looks like the flux capacitor from the Back to the Future films last night won a ?250,000 prize from the Royal Society for its ability to transform the cost and effectiveness of growing algae for biofuel, treating sewage and cooling computers.

The Y-shaped device delivers tiny but perfectly formed bubbles by mimicking the way children blow bubbles. Its inventor,

Prof Will Zimmerman,

a chemical engineer at the

University of Sheffield,

explained:



If you blow slowly and steadily, you blow a big bubble, but we use our fluidic oscillator to blow short puffs and make small bubbles.






The device has been used in field trials to produce algae from the exhaust gas from chimneys at the steel maker Corus.



Zimmerman said that as well as efficiently delivering carbon dioxide bubbles to feed the algae, the small bubbles crucially - unlike larger ones - carry away waste oxygen and allow 100% of the algae to survive.

If you sit in your own waste products, it's not good for your health, it stunts your growth and leads to death,he said. The bubble-maker also stirs the algae, meaning each cell is better exposed to the light it needs to grow. I call it a five star hotel for algae.

Ben Graziano, Carbon Trust manager of its algae biofuels challenge, said: There has been a lot of hype in this area and we think algal biofuels are 10 years from being commercialised, as most of the expertise is in the laboratory at the moment.

But biofuel from algae can reduce carbon dioxide emissions significantly better than many existing biofuels, and can be sustainable as they don't need arable land.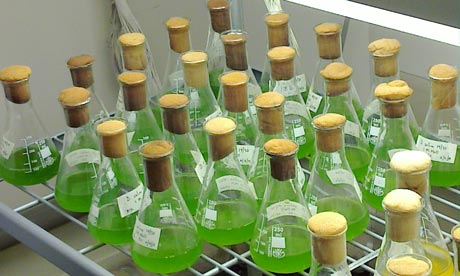 The oil giant ExxonMobil is making a $600m (?376m) investment in algae biofuels, working with the human genome decoder Craig Venter to engineer algae to produce more oil. Shell has also invested in the technology.

Overall, the system devised by Zimmerman requires 80% less energy than existing methods of creating bubbles for chemical processes. This advantage, and the lower cost of the equipment, has led Yorkshire Water and Anglian Water to work with Zimmerman to improve their treatment of sewage, which is broken down by bacteria in ponds.

Martin Tillotson, from Yorkshire Water, said: Given the huge volumes, treating wastewater is very costly in electricity and carbon terms. This technology offers the potential to produce a step-change in energy performance.

Zimmerman was presented with the Royal Society's Brian Mercer award for innovation last night and receives ?250,000 of prize money to help commercialise the technology. But he said money was not his main motivation. If I was chasing money I would have gone into industry where they pay more for my skills.

He holds two patents and will be chief technology officer for a company being spun out of the university. "If the company does well, then I will [get rich], if not I will lose my stake."

He could not name the Californian technology company that he is working with to convert solar heated water into a cooling device for computers.

ExxonMobil and Shell had not been in touch yet.
Zimmerman added: "Elephants don't gallop."
79993f23-734a-4135-900a-1f9f731e83f71.03.01