What exactly do facilities like Synthetic Genomics, Sapphire Energy,
SD-CAB, and the Scripps Institute the algal bioneers at the heart of
San Diego's Biotech Barrio look like?




Biofuels Digest's resident algal expert and market trends
columnist, Will Thurmond, reports.




This is part one. Two more to come


http://biofuelsdigest.com/bdigest/2010/10/13/the-culture-club-the-world-of-algae-rd-and-commercialization-an-inside-view-in-pictures/
Aviation is the most polluting form of transport, but it pays zero tax. It is nice to read about the aviation industry taking measures to reduce their emissions.Eugenia Luz-------------
Air travel could be powered from vast seas of algae growing close to airports within four years, according to researchers and airlines hoping to find a green future for aviation.
Industry giants including British Airways and Airbus are supporting a project at the UK's Cranfield University to investigate ways of harvesting algae for jet fuel in commercial quantities.


Targets to improve fuel efficiency up until 2050 were agreed at the conference, but many believe the organization is moving too slowly.
Steven Tebbe, a consultant advising the industry on improving its green credentials, pointed out that the best airlines are improving their fuel efficiency by around 1.5 percent a year, but the aviation industry as a whole is growing by 4 to 5 percent a year.


Researchers at Cranfield argue that algae present a better option than other bio fuels because they do not compete with land for food production.
The technology already enables biofuels to be used in existing aircraft, but the challenge is to produce them in large enough quantities.
Professor Feargal Brennan, of Cranfield University, believes algae could be produced commercially in four years time.

The big problem is getting enough biomass to supply industry without having an adverse affect.
The researchers will also look at whether the algae could be grown close to airports to prevent the environmental cost of distributing fuel around the globe.
If you have to employ tankers to bring it around the world, it wouldn't be green, said Brennan.
Like most experts, Brennan warns against seeing algae -- or any other single technology -- as a silver bullet.
The solution to aviation fuel is likely to come from a variety of sources and this is only one of them. If there's one lesson in all forms of renewable energy, it's that there's no silver bullet. The key to sustainability is not putting all your eggs in one basket.
British Airways announced earlier this year it was establishing a facility in east London to convert 500,000 tonnes of waste a year into 16 million gallons of jet fuel. The airline said it would use low-carbon fuel to power part of its fleet by 2014.
Airlines are taking biofuels seriously. Air Transport Action Group, which represents all sectors of the aviation industry globally, claims biofuels can reduce emissions by up to 80 percent and said five airlines have held test flights in the past 18 months.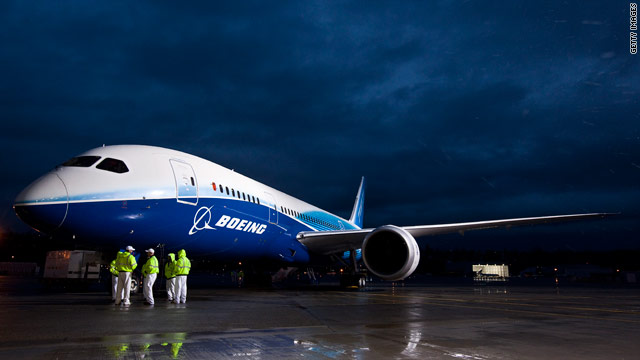 However, the industry is looking more widely than biofuel to meet its targets to improve fuel efficiency by an average of 1.5 percent a year until 2020; achieve carbon neutral growth from 2020; and halve its emissions by 2050 compared to 2005 levels.
Haldene Dodd, of the Air Transport Action Group, said: "We are the only industry in the world with a global agreement to deal with our CO 2 emissions.
Aviation only makes up 2 percent of emissions released by humans every year. We are a small part of a big problem, but we felt it was important to come up with a solution.
Dodd said that in addition to biofuels, the industry is producing more efficient aircraft, improving operations, improving infrastructure and accepting economic measures.
He said new aircraft currently being brought into service such as the Boeing 787 and Airbus 380 use the same amount of fuel per passenger per 100 km as a hybrid car.
Dodd said: "Improving our operations means making sure everything on board is as light as possible, from removing magazines to making the catering trolleys and cutlery from lighter materials to carrying less water.


One controversial aspect is economic measures such as taxes and the Emissions Trading Scheme.
The European Union is due to extend its Emissions Trading System to include aviation in 2012, but others have resisted such measures.
Bill Hemmings, of Transport and Environment, a pan-European organization campaigning for sustainable transport, argued that much more is needed.
Aviation is the most polluting form of transport, but it pays zero tax, he said.
The EU Emissions Trading System being extended to aviation in 2012 should be extended globally, but even this will only cost 1 cent per liter of fuel.
Hemmings said the industry was only just beginning to take its environmental responsibilities seriously.
He said: All the technological advances in aircraft manufacturing in the last 10 years have gone into flying further, faster and heavier.
In the longer term, NASA hopes to contribute to the solution with its Environmentally Responsible Aviation Project, researching efficiencies to the design of aircraft to be used from 2020 onwards.
Project manager Fayette Collier said: We have targets to reduce fuel burn by 50 percent, half noise pollution near airports, and reduce nitrogen oxide emissions by 75 percent.
I do believe this industry has taken the challenges head on and we are serious about finding ways to minimize our environmental impact.
European energy giant Vattenfall has installed a greenhouse next to a small plant in the East German town of Senftenberg where a team of scientists headed by Michael Strzodka is trying a new approach.


They are cultivating green algae which they hope will eat the CO2 from the plant.


Janine Thiele, a microbiologist says the concept is fairly simple: "Microalgae grow with photosynthesis, so they need light, they need CO2 and they need some nutrients like other plants."


The scientists have large tanks filled with algae and nutrients and they take the CO2 emitted from the power plant and put it in the tanks. The algae then turns the CO2 into clean air.


German PowerGerman power plants occupy six of the top 10 spots on the World Wildlife Fund's "Dirty 30" list of Europe's most polluting power plants.

First tests seem promising, the scientists say, but there are still more questions than answers. Power plants emit other gases aside from CO2, like sulfur, and it is possible the sulfur might kill off the algae or at least impede its growth.


But team leader Michael Strzodka says his main concern is whether the process is economically viable: "The issue is: can we use this with an energy balance? Meaning, we must ensure we don't use more energy in the process than the algae will give us in concentrated biomass."


It will take at least two years before Strzodka and his team will be able to answer this question.


He says even if the algae solution works it will only help to clean the emissions from small power plants. Larger ones emit so much CO2 it would take massive amounts of algae to do the same job.

The "Green Mission" project at Senftenberg is still in its early stages. Scientists are testing the effectiveness of different species of microalgae.

Their next step will be to examine the best uses for algae biomass. It could be used for energy, as an ingredient in animal feed, or algae lipids could be extracted to produce industrial grease.

Other energy companies, like Germany's RWE, are also experimenting with the technology.


The scientists at the green house in Senftenberg believe their algae could be a part of a solution to carbon emissions. Vattenfall is also exploring carbon storage technology where emissions are pumped into large tanks and then pressed into geological formations.


Both the algae technology and carbon storage are still years away from having an impact on emissions, but as Germany moves away from nuclear energy, Markus Sauthoff, an executive with Vattenfall says cleaner coal energy will become more important:

"As long as there is coal, it will be used -- and we can decide how we use it."


Michael Strzodka and his team of scientists say they are just trying to achieve the next step, a bigger set of algae tanks to expand their research.

He says he hopes one day the little green plants might help offer a solution to one of the biggest problems mankind faces today.
http://www.cnn.com/video/?utm_source=feedburner&utm_medium=feed&utm_campaign=Feed: rss/cnn_freevideo (RSS: Video)#/video/world/2010/09/23/pleitgen.green.algae.filters.cnn
Compact Contractors of America LLC, a Utah-based company developing dry algae aviation fuels, recently announced it has sold samples of its powdered algae-based jet fuel to the U.S. Air Force Research Laboratory. According to Robert Fulton, CCA?s chief technologist and founder, the laboratory will conduct testing and evaluation on the fuel for use as a solid propellant for aviation rocket use.
CCA's technology involves drying biobased feedstock at a specific temperature over a specific period of time, said Fulton. "We use a spray dryer [which is] commercial technology that is currently available," he continued. "I discovered?that under certain conditions you can actually draw the oils to the surface of the cells while you are removing the moisture from [the feedstock]."
The resulting powdered fuel is very conducive to simultaneous combustion, Fulton said, meaning that the sugars, plant material, cellulose and proteins all tend to fire at once. ?It does not caramelize and it does not gel, which makes it a good jet fuel,? he continued.
While CCA?s research is currently focused on using algae as a primary feedstock, Fulton said that there potential to use other feedstocks, such as camelina in the future. While the process can utilize a wide variety of algae strains, Fulton noted that the oil content of the feedstock affects the grade of the fuel. While high-grade fuels are needed for aviation use, Fulton said lower grades may be used to fuel stationary applications on the ground, such as turbine engines that produce electricity.
The Los Alamos National Laboratory innovators were recognized for distinguished patents, licenses and copyrights !

The ultrasonic biofuel harvester, developed by Greg Goddard of the Lab?s bioscience division, uses extremely high frequency sound waves to harvest and extract oils and proteins from algae, separating out and recycling the water, all in one integrated system.
No other technology uses a single method to capture all three valuable components of algae.
The ultrasonic harvester is a low-cost, environmentally green, energy-efficient process for using algae as a fuel and feed source.
It can make algal biofuels more cost-competitive with current fuels and make them more available. The technology eliminates the traditional use of solvents to extract agal oils, and the associated risks to both humans and the environment.
Algal carbohydrates can be used to produce both ethanol or methane and the proteins can be used to feed cattle, poultry, and fish.



Biodiesel Industries (BI) builds, owns and operates biodiesel production facilities based upon patented and proprietary technology developed over the past 16 years.



BI claims that it has developed biodiesel production facilities in Australia, California,Colorado, Nevada and Texas, and has conducted feedstock and production feasibility studies for clients worldwide. It has also done some work on jatropha for the Indian Gov.


?? ? ?


Biodiesel Industries ?ARIES? Bioenergy Project? is a multi-year project using algae to produce biodiesel in an integrated energy system monitored by the ARIES platform.
?

ARIES, which stands for Automated Real-time, Remote, Integrated Energy System, was developed with Aerojet to incorporate advanced automation control capabilities:


ARIES? is a highly automated, transportable biodiesel production unit with the capability to be controlled from a remote location. These features ensure reliable process control and optimal production yields in a sustainable system that can be readily and widely deployed. Under this grant, the system will be adapted to fully integrate algaculture, anaerobic digestion of waste products and self-generated combined heat and power. This unique approach will enable the production of biodiesel to be self-sustainable, produce excess renewable energy and substantially reduce greenhouse gases.
The work will be done at Naval Base Ventura County at Port Hueneme, California.
Biofuel industries have done some work with Government of India on Jatropha.

?

Canada-based Solarvest BioEnergy has begun a cooperative Research and Development agreement with Dr. Suzanne Budge at the Canadian Institute of Fisheries Technology at Dalhousie University to assist Solarvest in the characterization of lipids and fatty acids in algae.

Solarvest Bioenergy currently specializes in the manipulation, growth and production of the alga Chlamydomonas reinhardti; the company has developed a novel strain of algae for the continuous production of hydrogen.


Solarvest envisions an integrated production process with three main components:

The capture of carbon dioxide in photobioreactors, using Solarvest proprietary microalgae to convert industrially produced CO2 and solar energy into algal biomass by photosynthesis.

The continuous bio-production of hydrogen.

The use of the strains to produce commercial quantities of valuable biomolecules for the nutraceutical and animal health industries to maximize the capital costs of the photobioreactors.
A change in the corporate management team, corporate name and mission statement are not the only things happening at Bionic Products.

It has become Biocen Natural Products. New president too.


One primary market for BioCen Natural is the Company's health drink division. By developing beverages to include three (3) highly-effective algae strains, Haematococcus pluvialis (Astaxanthin), Spirulina and Chlorella in BioCen's proprietary health drinks, the Company can deliver beverages that meet the daily nutritional recommendations and provide the body with powerful 'super' antioxidants."

Summarized below are the many health benefits of these highly-effective algae strains:

Haematococcus pluvialis (Astaxanthin): Antioxidant - Boost the Immune System

Many health applications for this strain include: cancer treatment and support, immune disorder, arthritis and heart disease. Because Astaxanthin contains a high class of carotenoids, fish, shrimp and crabs obtain their red coloring from this amazing algae.

Spirulina: Protein - Balance

Today, BioCen Natural utilizes Spirulina in its health drinks to quickly deliver high protein for a balanced system.

Chlorella: Detoxify - De-Stress

Chlorella is often used to alleviate hypertension, constipation, and premenstrual syndrome.

With sales in the nutraceutical and sport drink industries exceeding $6.2 Billion in the United States with projected annual growth of 10%, BioCen Natural has the capability and capacity to meet these industries' high demands to develop and introduce our unique proprietary and effective nutritional health beverages.