How Nienke Hoogvliet Reimagines Seaweed as Textile
Dutch designer Nienke Hoogvliet sees seaweed as an opportunity for sustainable creativity.  For the past two years, Hoogvliet has been focused on the potential of using seaweed as textile, embracing a zero-waste approach to her material designs.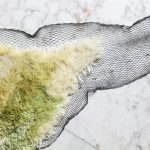 At first, she found a yarn made of sea algae. She dreamed of a circular process, where the seaweed is not only used to make yarn, but also to dye the yarn. She started experimenting and was pleasantly surprised with the wide color palette she ended up with.
View the complete list of products from Algae
Click here