Eco-friendly Seaweed Business in Bomaderry Set to Boom
Locally-grown seaweed has been selling out faster than producers can make it. Pia Winberg opened a pilot farm in Bomaderry a year and a half ago.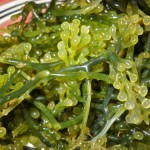 The tiny farm, just .05 of a hectare, produces a unique form of Australian seaweed using nutrients from waste water at Manildra. It's a world first, in terms of offsetting waste from a flour refinery.