Imperial Academic Discusses His Work on Algae Fuel Factories
Scientists at Imperial College are working to produce biofuels from genetically modified algae. Though the team is experimenting with several genetically modified algae, their research will focus primarily on three types of algae – Cyanothece sp., Synechocystis sp, Chlamydomonas.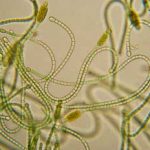 Their idea is to produce three types of biofuels – Biohydrogen which is a clean transport fuel, biobutanol, which is a replacement of gasoline, and biohydrocarbon, which is an alternative to diesel.