New Jelly Snack from Seaweed
A jelly snack made in a lab from seaweed and lobster shell is expected to launch early next year. The product is said to be an alternative to dairy products.
Developed by researchers in South Australia, the product named SeaNu is meant for the growing number of children who do not take milk products.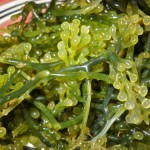 The research team used biorefinery technology to reconstitute biological material and formulate it into a small jelly for children to include it in their lunch boxes.
Seaweed is rich in trace minerals, calcium, vitamins and is also a low calorie source of protein and fibre. Lobster shell is also high in calcium and protein.
View the complete list of products from Algae
Click here