Development of Cost-effective Biodiesel from Microalgae Using Protic Ionic Liquids
Production of biodiesel from microalgae still have constraints owing to high cost and energy consumption of biomass cultivation and lipid extraction. Now scientists have performed an experiment to produce cost effective biodiesel from microalgae using protic ionic liquids.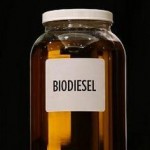 The use of protic ionic liquids was assessed for lipid extraction using Scenedesmus obliquus and compared to conventional methods.
Results showed that high extraction yields were obtained in most of the investigated ionic liquids using wet microalgae.