Research Finds Cyanobacterium for Biotech Applications
Researchers from Washington University have found a fast growing cyanobacterial strain called Synechococcus elongatus UTEX 2973 capable of competing with the growth of other contaminating strains and also eventually to synthesize large quantities of biofuels or other valuable products.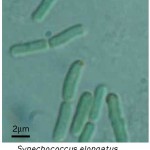 The newly identified strain is also very useful for quick experimental work due to its rapid growth when compared to other slow growing cyanobacterial strains. It thus ultimately proves useful for carbon sequestration, biofuel production, biosynthesis of valuable chemicals and to search for novel pharmaceuticals.