Iran-Based Microalgae Company to Produce Algae Bio- Jet Fuel
Qeshm Micro Algae Biological Refinery, the largest microalgae biological technological company in Iran, ties up with worldw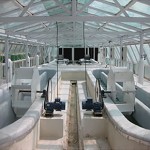 ide airlines to produce algal bio-jet fuel.
QMAB utilizes a patented high-lipid local species called Nanochloropsis, which is capable of producing more than 50% oil at a rate of 240t/h/y. This enables QMAB to produce biofuel economically from microalgae.
QMAB, located on 1,000 acres of land on Qeshm Island, aims at reducing greenhouse gases and producing healthy biological products for human health.