Rooftop Algae Farming – A case study
Roof tops are excellent venues to grow algae because the high temperatures and constant sunlight helps it to grow.  A recent study the Oilgae team revealed that a company – EnerGaia, based out of Bangkok, grows Spirulina on roof tops in specialized photobioreactors.
The company's aims to cultivate Spirulina in roof tops of hotels, factories buildings ( literally wherever there is space) and export the product – raw, not dried. The company claims is the only producer of fresh spirulina in the world; other companies only sell dried and processed varieties.
Sketch:Spirulina Rooftop Farming Value Chain. Adapted from Oilgae Newsletter- September 2013
Some of the features of the company's roof-top farming include the following:
Specialised Cultivation Systems – A closed system (image below) which presents numerous advantages including: limited contamination risk ; better quality control; limited evaporation loss and substantially less water usage; precise monitoring; significant increase in production per unit of land area; can be installed on rooftops; air-filtration that removes airborne contaminants.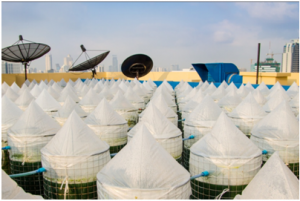 Energaia's Photobioreactor; Image Courtesy :www. energaia.com
Harvest Thrice a Week – The company's algae strain has a doubling time of 24 hours and is being harvested thrice a week.
Yield: EnerGaia's bio-reactors can produce one kilogram of Spirulina from 15 liters of water. They are also testing out barrels of different shapes  to see which will produce the highest yield
Hand Rinsed and Spun Dry in a Washing Machine: Once the spirulina algae has been collected, it is hand rinsed and spun dry in a modified washing machine.It is then hand-pressed into jars, as there is no machine yet available that can work with the thick, jelly-like substance it produces.
No Drying Required: One of the uniqueness of EnerGaia's Spirulina is that they don't  completely dry the Spirulina. Their Spirulina is sold in a paste form. They also claim that there is a natural taste to their Spirulina because it's not dried. However, the shelf-life of their algae is only for three weeks and need to be refrigerated if needed to be preserved for more time. The advantages of having it fresh are that it has virtually no taste, so you can mix it with anything.