Algae Industry Recognizes Budding Researchers
Have you seen Oilgae's comprehensive report on the attractive product and business opportunities from algae?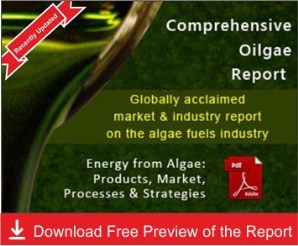 The only report anywhere in the world that scientifically analyses every possible non-fuel product opportunity from algae - in nutrition, animal/fish feed, medicine and pharma, specialty chemicals such as agrochemicals and lubricants, plastics, environmental remediation and more.
Know more about the Comprehensive Algae Business Opportunities report from here .
Six students get Young Algae Researcher Award for their contribution to algae biology and engineering research. The awards were presented at the world's largest gathering of algae industry professionals and academicians, to recognize the exceptional research projects carried out by budding researchers, who discover innovative methods of producing fuel and other products from algae.
Researchers Awarded Under Algae Biology Category
Beth Rasala, University of California San Diego – Development of molecular genetic tools for algae biotechnology.
Justin Ungerer, National Renewable Energy Lab – Sustained photosynthetic conversion of CO2 to ethylene in Synechocystis 6803.
Henri Gerken, AzCATI at Arizona State University – Advanced characteristics of Chorella vulgaris cell walls by enzymatic degradation.
Researchers Awarded Under Algae Engineering Category
Esteban Hincapie, Colorado State University – Design of a continuous flow algae harvesting devise: Ultrasonic property measurements and finite element analysis.
Katerine Napan, Utah State University  Biodiesel production in combination with bioremediation of heavy metals from flue gas using microalgae.
Alex McCurdy, Utah State University – Biodiesel from algae, yeast, and bacteria: Engine performance and exhaust emissions