SoladieselRD – the First 100% Microbially Derived Renewable Diesel Fuel to be Registered with the EPA
Have you seen Oilgae's comprehensive report on the attractive product and business opportunities from algae?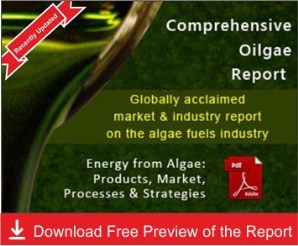 The only report anywhere in the world that scientifically analyses every possible non-fuel product opportunity from algae - in nutrition, animal/fish feed, medicine and pharma, specialty chemicals such as agrochemicals and lubricants, plastics, environmental remediation and more.
Know more about the Comprehensive Algae Business Opportunities report from here .
Another feather in Solazyme's cap! The company's microbially derived renewable diesel fuel SoladieselRD, has been granted registration by the US-EPA. This registration enables SoladieselRD to be sold commercially either in blended and unblended (R100) forms.
Let the Good Fat from Omega-3 Neutralize Your Bad Fat
-Know more
Solazyme claims that SoladieselRD is the first 100% microbially derived renewable fuel to get registered with the EPA. Solazyme's algae-derived fuel products have already been demonstrated in a big way. This certification is another milestone in Solazyme's journey towards algae fuels commercialization.
In tests conducted for the EPA registration, SoladieselRD met or exceeded the ASTM D975 specification for conventional diesel fuel.  SoladieselRD performed substantially similar to petroleum diesel and even reduced NOX emissions by approximately 10% when tested in modern diesel engines.  In a measurement of the combustion quality, SoladieselRD exhibited a Cetane Number greater than 78, which is more than 60 percent better than standard U.S. diesel fuel, indicating SoladieselRD is a high quality fuel. SoladieselRD is compatible with existing infrastructure and can be used with factory-standard diesel engines without modifications.