US-Navy Going Green
Have you seen Oilgae's comprehensive report on the attractive product and business opportunities from algae?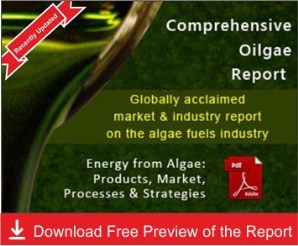 The only report anywhere in the world that scientifically analyses every possible non-fuel product opportunity from algae - in nutrition, animal/fish feed, medicine and pharma, specialty chemicals such as agrochemicals and lubricants, plastics, environmental remediation and more.
Know more about the Comprehensive Algae Business Opportunities report from here .
The Navy's "Great Green Fleet" has decided to continue the use of algae-based biofuels blend in its warships. The fleet of warships fueled by alternative fuels is expected to be deployed by 2016. In another ten years, the Navy will dramatically reduce the use of fossil fuels in its vehicles. For this the Navy will associate with the Army and Air Force to validate the warplanes and ships for biofuel compatibility certification, so that they will be entitled to operate on a drop-in combination of conventional oil and green fuel, without the need for engine modifications.
The Navy's first biofuel-powered ship achieved a trip along California's coast, during November 2011, using an equal blend of petroleum and algae fuel supplied by Solazyme, one of the top algae fuel companies. For the same engines, the combustion of fuel was similar to that of the traditional one. During March, the Navy's USS Ford used algae fuel to sail across 12,000-mi from Washington to San Diego to produce similar results.
In addition to Solazyme, which supplies algae fuel, Dynamic Fuels supplies alternative fuels derived from non-food grade animal fats and used cooking oil.