Thailand Power Producer to Utilize CO2 Emissions for Spirulina Production
Have you seen Oilgae's comprehensive report on the attractive product and business opportunities from algae?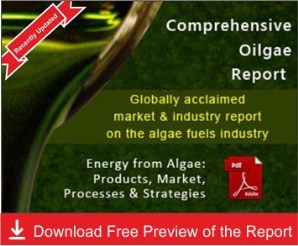 The only report anywhere in the world that scientifically analyses every possible non-fuel product opportunity from algae - in nutrition, animal/fish feed, medicine and pharma, specialty chemicals such as agrochemicals and lubricants, plastics, environmental remediation and more.
Know more about the Comprehensive Algae Business Opportunities report from here .
Ratchaburi Electricity Generating Holding Plc (RATCH), the largest independent power producer of Thailand is hoping to start commercial production of Spirulina using the carbon dioxide emitted from its power plant. The company has been doing research on this for the past two years ans has spent about 70 million baht for the testing phase. According to Noppol Milinthanggoon, the CEO of RATCH, the testing is almost over and they hope to start commercial production soon. He added that they are the first power plant in Thailand to use CO2 emissions to a high-value product.
The company is about to file a patent on algae cultivation using power plant CO2, with the country's Commerce Ministry.They are also planning to increase the land being utilized for Spirulina cultivation in their power plant.
Apart from Spirulina cultivation, the company is also doing research on biofuel production from algae.