Sixth Grader Wins Award for Algae Biofuel Project
Have you seen Oilgae's comprehensive report on the attractive product and business opportunities from algae?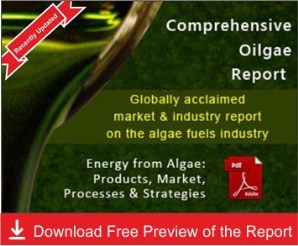 The only report anywhere in the world that scientifically analyses every possible non-fuel product opportunity from algae - in nutrition, animal/fish feed, medicine and pharma, specialty chemicals such as agrochemicals and lubricants, plastics, environmental remediation and more.
Know more about the Comprehensive Algae Business Opportunities report from here .
David Truilo is just 12 years old. But his concern towards sustainability and environmental protection is appreciable. And that concern has brought him to the first place at the State Science Engineering Fair that took place in Florida. If you know what fetched him the award, you will be surprised. Yes! the kid's project was focused on biofuels production using the algae Nannochloropsis oculata.
David was keen on identifying the best algae species for biofuel production. He is of the opinion that algae has the capacity to produce ethanol in a cheap way and algae absorbs a lot of CO2 during its growth, thus aids in reducing global warming. According to his mother Julia, David's passion about the environment has taken him to this position.
By winning the first position, David is nominated to compete in the Society for Science & the Public's Broadcom MASTERS – Math, Applied Science, Technology and Engineering for Rising Stars.