OriginOil Files Patents for its Oil & Gas Field Wastewater Cleanup Technologies
Have you seen Oilgae's comprehensive report on the attractive product and business opportunities from algae?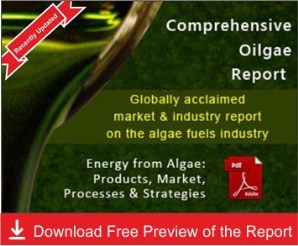 The only report anywhere in the world that scientifically analyses every possible non-fuel product opportunity from algae - in nutrition, animal/fish feed, medicine and pharma, specialty chemicals such as agrochemicals and lubricants, plastics, environmental remediation and more.
Know more about the Comprehensive Algae Business Opportunities report from here .
OriginOil has filed two patents with the US PTO for its recently developed technology for cleaning up oil and gas field wastewater. The company hopes that its unique technology will find immediate application in oil and gas field wastewater cleanup  and in the long run, it will find a great market potential in industrial wastewater and remediation of toxic chemicals. OriginOil's patent pending process will be great use to oil producers, as about 50 barrels of water are contaminated for each barrel of oil extracted. The technology was proved to be efficient in a recent third party testing, as it was found to remove 98% of hydrocarbons from a sample of oil well 'frac flowback' water.
The filed patents will  protect OriginOil's two inventions related to these processes, the one being, "Solute Extraction from an Aqueous Medium Using a Modular Device", and the second is "Modular Systems and Methods for Extracting a Contaminant from a Solution". By these inventions the company wants to position itself in the conventional energy and industrial waste cleanup markets.