Maersk and the Navy Join Hands for Biofuels Testing
Have you seen Oilgae's comprehensive report on the attractive product and business opportunities from algae?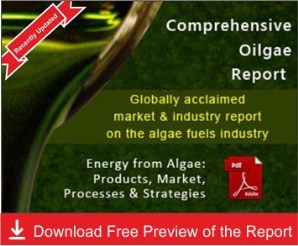 The only report anywhere in the world that scientifically analyses every possible non-fuel product opportunity from algae - in nutrition, animal/fish feed, medicine and pharma, specialty chemicals such as agrochemicals and lubricants, plastics, environmental remediation and more.
Know more about the Comprehensive Algae Business Opportunities report from here .
Another interesting news on the series of the Navy's biofuel initiatives! Maersk, one of the largest shipping companies in the world, and the US Navy have come together to test algae biofuel on the container ship Maersk Kalmar. The ship is en route from Northern Europe to India. The biofuels test is the first collaboration between Maersk and the U.S. Navy's Naval Sea Systems Command (NAVSEA).
Two key things that make Maersk Kalmar suitable for biofuel testing are
The 300 meter-long container ship with a dedicated auxiliary test engine, which reduces the risks of testing
Its fuel system with special biofuel blending equipment and separate tanks.
During his visit to the Maersk headquarters in Copenhagen, Denmark in October 2010, Secretary of the Navy Ray Mabus learned of the energy conservation initiatives across Maersk's fleet of over 1,300 vessels. These programs fit well with the Navy's interests in increasing fuel efficiency and reducing emissions.
According to sources, the ship will use 30 tons of biofuel during its month-long, 6,500 nautical mile voyage from Bremerhaven, Germany to Pipavav, India. Engineers and crew onboard are testing blends ranging from 7% to 100%. The team is also analyzing emissions data on NOx (nitrogen oxides), SOx (sulphur oxides), CO2 and particulate matter from the fuel use, along with effects on power efficiency and engine wear and tear. Tests are scheduled to conclude in early December with an analysis of results following soon thereafter.
According to David Anderson, Maersk Line Limited's technical representative for the project, the test is aimed at identifying an optimal blend of distillate and biofuel that will meet the more stringent requirements of the International Maritime Organization's forthcoming emissions regulations.