Utah to Produce Biofuels from Algae
Have you seen Oilgae's comprehensive report on the attractive product and business opportunities from algae?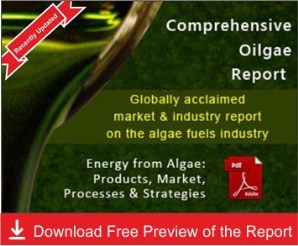 The only report anywhere in the world that scientifically analyses every possible non-fuel product opportunity from algae - in nutrition, animal/fish feed, medicine and pharma, specialty chemicals such as agrochemicals and lubricants, plastics, environmental remediation and more.
Know more about the Comprehensive Algae Business Opportunities report from here .
Utah is on its way to generate energy and produce biofuels from algae grown in wastewater ponds. Kevin Shurtleff, the director of the Utah State Energy Dynamics Lab says that wastewater from coal-fired power plants or municipal sewage could serve as an excellent source of carbon dioxide and nitrogen, which algae require.
Shurtleff plans to launch pilot plants this summer in Utah, which will utilize wastewater to cultivate algae for the production of biofuels. He hopes that algal biofuels will complement traditional fuels and so algae will be a profitable venture. He is also confident that they can bring down the cost of algal biofuels and make it commercially viable.
A Springville based company AD Tech captures methane from wastewater to convert it into fuel. The company's President Jason Miller has the idea of using algae for breaking down the nutrients in the wastewater.
http://www.businessweek.com/ap/financialnews/D9MMUU9G0.htm