Algae Seen as Cheapest, Greenest Bio-diesel Source
Have you seen Oilgae's comprehensive report on the attractive product and business opportunities from algae?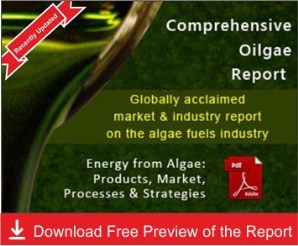 The only report anywhere in the world that scientifically analyses every possible non-fuel product opportunity from algae - in nutrition, animal/fish feed, medicine and pharma, specialty chemicals such as agrochemicals and lubricants, plastics, environmental remediation and more.
Know more about the Comprehensive Algae Business Opportunities report from here .
Microalgae grown in wastewater has shown promise as a potential source of bio-diesel. It could be the cheapest and the greenest source ever. The end result — clean wastewater and material for a promising bio-fuel. Algae have a lot of advantages. They are cheaper and faster to grow than conventional crops.
See more at
http://www.sify.com/news/algae-seen-as-cheapest-greenest-bio-diesel-source-news-international-lcsvuhibbai.html