A Premiere Event on Technologies for the Industrial Applications of Algae
Have you seen Oilgae's comprehensive report on the attractive product and business opportunities from algae?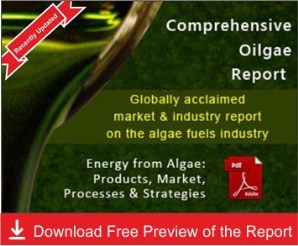 The only report anywhere in the world that scientifically analyses every possible non-fuel product opportunity from algae - in nutrition, animal/fish feed, medicine and pharma, specialty chemicals such as agrochemicals and lubricants, plastics, environmental remediation and more.
Know more about the Comprehensive Algae Business Opportunities report from here .
Algae Europe 2010 is the premiere event on technologies for the production and industrial applications of algae culture which will be held between 27th of October, 2010 at Fiera Milano City, Italy.
The event has been designed specially for the manufacturers of technologies, plants and machinery for the production of algae, along with the companies concerned in their production, commercialization and utilization, research centres and investors.
The exposition will include a sophisticated conference, bringing together authoritative specialists to deliver the attendees significant knowledge regarding the crucial topics of the relevant field.
Algae Europe Conference & Expo 2010 will offer the exhibitors a wonderful opportunity to showcase most innovative technologies and services and industrial applications to the targeted visitors in a highly-focused, business- oriented environment.
For more details – http://www.tradechakra.com/events/milan-italy/algae-europe-2010-8025.php