Former BP Exec C.J Warner Sets Her Sights on Algae Fuel
Have you seen Oilgae's comprehensive report on the attractive product and business opportunities from algae?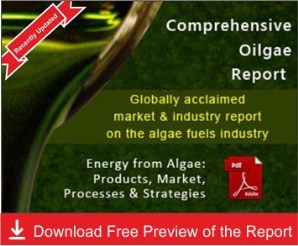 The only report anywhere in the world that scientifically analyses every possible non-fuel product opportunity from algae - in nutrition, animal/fish feed, medicine and pharma, specialty chemicals such as agrochemicals and lubricants, plastics, environmental remediation and more.
Know more about the Comprehensive Algae Business Opportunities report from here .
According to Cynthia Warner, speaking at the Web 2.0 Summit in 2009, algae is 40 times more efficient at photosynthesis than any other plant, which makes it the king of bio-fuels.
Last year, 4% of the US transportation fuel supply came from corn based ethanol. It took 23 million acres to achieve that. Warner says that if we had committed the same land area to growing algae instead, it would have produced 50% of our supply. This suggests that less than 50 million acres, an area about the size of the state of Nebraksa, would be sufficient to grow enough algae to power our current transportation fleet. That's a little over 2% of the total land area of the US.
The second great thing about algae, Warner tells us, is the fact that it is a "drop-in fuel," which means that it can directly replace gasoline without any modification to the cars, the pipelines, pumps, refineries, etc. That's a pretty big deal. Our current fossil fuel infrastructure represents  $12 trillion investment.